Rug Margoum Ghassa 125x195 cm
Width

125 cm

Length

195 cm

Color

Blue White

Compositions

Wool

Type

Margoum

Origin

Tunisia

Use

Medium rug Bedroom/Living room
Tunisian Margoum carpet from the city of Kairouan. Unique piece handmade by a skilled craftswoman.

Secure payment

Free shipping

15 day money back guarantee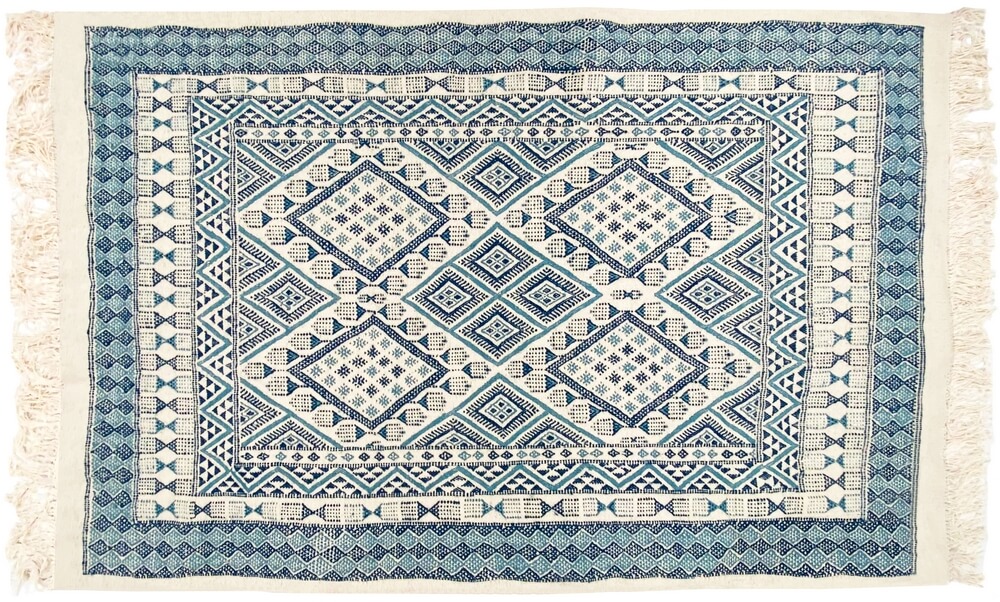 Here is the meaning of the main symbols of the Rug Margoum Ghassa 125x195 cm :

Note: Originally, the symbolism of Berber signs refers mainly to life, the fertility of the couple and the fertility of the land. Over the centuries, the meanings have often evolved or overlapped.



Blue
Blue is the colour of wisdom and the path of dreams in the Berber tradition. It is also the colour of water, the universal source of life.

The rhombus
The diamond is the Berber carpet pattern par excellence. It appears on almost all Berber carpets in the Maghreb, whether in Tunisia, Algeria or Morocco.
Meaning 1: The diamond is an ancient Berber feminine symbol that represents woman and her beauty. It represents the womb of life, the uterus or the woman's body as a whole.
Meaning 2: The eye or the mirror: what reflects or allows one to see.The representation of the eye is in the Berber culture a way of countering the evil eye. In the same way, the mirror reflects the evil eye against itself.

The zigzag
The zigzag is one of the most present Berber signs on Tunisian and Moroccan carpets.
Meaning 1: Male symbol of fertility and fecundity.
Meaning 2: Image of water, symbol of life and matrix of existence. Image of the waves of the generating sea or of the lightning bringing rain.
Meaning 3: Image of the serpent that represents the lunar seasons and represents by its moult the renewal of life and the resurrection of nature, the cycle of seasons full of promise. The snake also represents the union of the opposites male and female, sky and earth, night and day...

The weaving comb
Berber carpets are entirely hand woven, without shuttle or spindle. The only accessory used by the craftswomen is the weaving comb which is used to pack the wool of the carpet. It is therefore a strong symbol associated with creativity and fecundity. It is often represented on Tunisian carpets, especially on short carpets such as kilims and margoums.

When the combs have 5 branches, they refer to the hand of Fatma (khomsa), present on many handicrafts. The khomsa is an ancestral symbol of Berber beliefs used as an amulet against the evil eye symbolizing protection, power and strength.

When the weaving combs are doubled, they also refer to the tree of life and its roots symbolising life, knowledge and wealth.
Data sheet
Width

125 cm

Length

195 cm

Color

Blue White

Compositions

Wool

Type

Margoum

Origin

Tunisia

Use

Medium rug Bedroom/Living room